Kota Belud Trail VS Ranau Trail
Climbers have the choice to choose between two trails when summiting Mount Kinabalu. The standard popular Ranau Trail or the less trodden Kota Belud Trail. Both trails start from Panalaban (formerly known as Laban Rata) and coincide at Sayat-Sayat Checkpoint and continue ascent to the Low's Peak summit at 4095.2 m. Climbers will have to trek six kilometres (6km) from Timpohon Gate to Panalaban Basecamp (3,272m a.s.l.) where Laban Rata Resthouse and all the assorted huts are situated. However, special permission is required from Sabah Parks management for those who wish to take the Kota Belud trail. Both trails, offer climbers different experience and views. Below is a comparison of Kota Belud Trail vs Ranau Trail, in terms of the trail difficulty level, highlights and other features.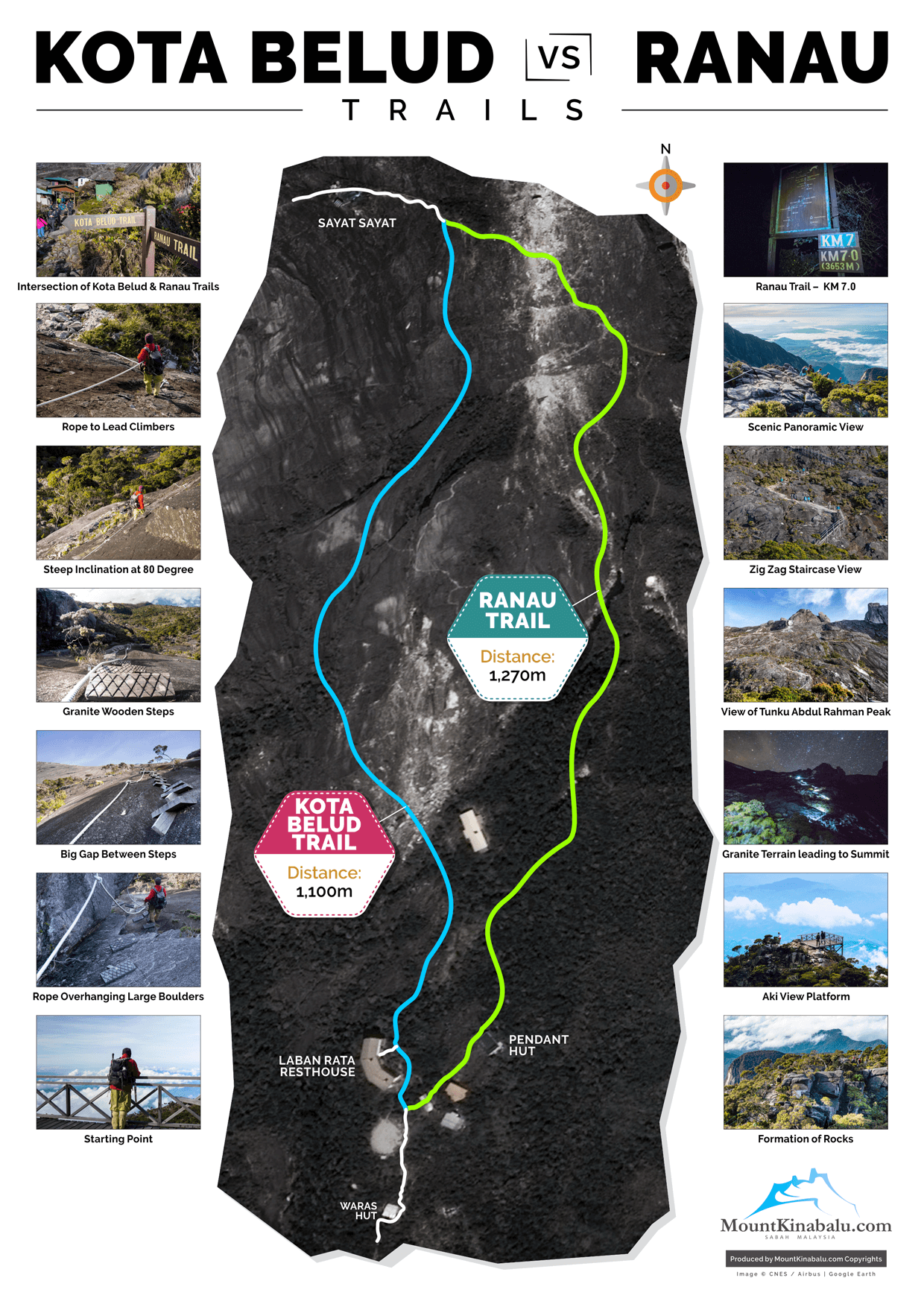 Comparison Chart of Kota Belud Trail vs Ranau Trail
KOTA BELUD TRAIL (Alternative Route)
ASPECTS
RANAU TRAIL (Standard Route)
1,100 metres
Length of Trail
(Laban Rata to Sayat-Sayat)
1,270 metres
1.5 – 2 hours
Duration
(Depending on fitness level)
1 – 2 hours
Next To Gunting Lagadan & Panar Laban Hut
Starting Point
After Pendant Hut
At 7.5km mark, right before Sayat-Sayat Checkpoint
Ending Point
At 7.5km mark, right before Sayat-Sayat Checkpoint
Special permission is required from Sabah Parks Authority
Permission
No permission is required
30 climbers per day
Climbers Limit
No limit stated
1 : 3
Guide to Climber Ratio
(Maximum number of adult climbers allowed to be led by one mountain guide)
1 : 5
Above average fitness level (Requires upper & lower body strength and not afraid of heights)
Climber Fitness Requirement
Average fitness level
Moderately hard (Sectional wooden steps, rely heavily on the rope, steeper & more challenging than Ranau trail)
Trail Difficulty
Moderately easy (Flights of staircases, relatively less steep compared to Kota Belud trail)

95% of the trail is made of granite. Wooden steps are installed on certain sections of the trail, particularly in the early stages.

Ropes are installed to lead climbers along the trail. These ropes passed several boulders overhangs which would shelter climbers from falling rocks.

The final stages of the trail leading up to the Sayat-Sayat checkpoint is considered the most challenging as some parts are at an incline of 60 degrees.

Trail Condition

90% of the trail is made of either wooden staircases or steps carved out of rocks.

Ropes are installed to make it easier for climbers to hike through certain parts of the trail.

The final part of the trail, climbers are required to hike up the granite surface terrain.

Overall, the trail is gentle and safe for average climbers

View of Mountain Torq's Low's Peak Circuit & Walk The Torq activities & paths Intersection between Kota Belud Trail & Low's Peak Circuit path.

Panoramic view of Panalaban Basecamp & Mt. Trus Madi

Walk pass the ruins of Panar Laban Hut & Gunting Lagadan Hut

Highlights

Aki Point Viewing Platform

Panoramic view of the "zig-zag" staircase trail

Upper montane & cloud forest vegetation

Allowed to change to Ranau Trail once booked on Kota Belud Trail
Change of Mind
Not allowed to change/upgrade to Kota Belud Trail once booked on Ranau Trail
18 years and above
Age
No Limit
9 THINGS TO KNOW ABOUT RANAU TRAIL
New Trail

Ranau Trail, a new route to the summit was opened to the public on 1st December 2015, after the old route from Panalaban Basecamp (was then known as Laban Rata) to the Sayat-Sayat Checkpoint became inaccessible due to fallen rocks that barricaded most parts of the trail after the earthquake. Ranau Trail was constructed within 3 months to replace the old single route leading to the summit. Ranau trail is slightly longer (about 60 metres) and more challenging compared to the old route but offers climbers with magnificent view along the way.

No Restriction of Climbers Per Day

Ranau trail is currently the standard trail taken by all climbers to reach the summit from Panalaban Basecamp. At this moment, there is no restriction to the number of climbers who summit via Ranau Trail compared to the restricted number of 30 climbers per day for Kota Belud Trail. However, all climbers who summit Mount Kinabalu must obtain a climb permit. The maximum number of climb permits issued by Sabah Parks is currently capped at 135 permits per day.

1:5 Guide to Climber Ratio

For Ranau Trail, one mountain guide can lead a maximum of 5 adult climbers, which is the standard guide to climber ratio requirement stipulated by Sabah Parks. This contrasts with Kota Belud Trail, where the stipulated guide to climber ratio is 1:3

Summit Gate

The starting point or summit gate of Ranau Trail is after Pendant Hut. This is unlike the old Summit Trail where the summit gate was situated right next to the Gunting Lagadan Hut. The summit gate will be closed to climbers in the event of bad weather which may compromise climbers' safety when summiting Low's Peak.

Endless flights of Staircases

At the start of Ranau Trail, climbers will encounter flights of wooden staircases built into the rock face of the mountain. The staircases may seem never ending and some climbers may find it challenging as the air thins. However, it is still manageable for beginners with basic fitness level.

A view of Mt. Trus Madi

As climbers descend towards Panalaban Basecamp from Sayat-Sayat checkpoint, the view of Malaysia's second highest mountain - Mt Trus Madi, is visible over the horizon on a clear day.

The Trail is Longer Than Kota Belud Trail

Starting Point of Mountain Torq - Walk The Torq

As climbers descend halfway down the Ranau trail, they will pass by the starting point of Mountain Torq's Walk The Torq Via Ferrata activity.

Aki Point Viewing Platform

A short distance from the starting point of Via Ferrata activity - Walk the Torq, climbers will arrive at the Aki Point Viewing Platform. This is a unique platform that is built over the edge of the rockface of Mount Kinabalu. Climbers can enjoy a 360-degree panoramic view as well as a bird's eye view of Ranau Town on a clear day. This is definitely one of the highlights of climbing via Ranau trail!

---

13 THINGS TO KNOW ABOUT KOTA BELUD TRAIL

A Combination of "Old" and "New" Route

The Kota Belud trail, officially launched on 9th December 2016, is an alternative new route to the Low's Peak summit. It is essentially a combination of "old" and "new" route. The "old" comprises the initial original route (but was abandoned in 1980s) taken by Sir Hugh Low, who first summited the highest peak of Mt. Kinabalu in 1851. Whereas, the "new" route is the new construction done in 2016, where certain sections of the ancient trail had to be diverted due to safety reasons and to avoid rockfall areas following the 5th June 2015 earthquake.

Limited to 30 Climbers Per Day

The Kota Belud trail is limited to only 30 climbers per day as regulated by Sabah Parks Authority. This is to maintain the trail sustainability in the long-run and to avoid congestion along the narrow and steep trail. Contrary to the Kota Belud trail, the Ranau Trail has no limitation to the number of climbers per day. Ranau trail is currently the standard route taken by most of the climbers ascending and descending the summit.

1:3 Guide to Climber Ratio

1 mountain guide can only lead a maximum of 3 climbers through the Kota Belud trail. If a group of climbers wishes to take this trail, ensure that the mountain guide to climber ratio is according to the requirement. A group of 5 climbers will require to engage the service of 2 mountain guides while a group of 7 climbers will require 3 mountain guides.

Bad Weather Hampers Trail Accessibility

In case of bad weather, it will be impossible for climbers to go through Kota Belud trail as some parts of the trail are covered with mosses and runs along the path of running water. The trail condition will be slippery, and this poses a danger to climbers' safety. Furthermore, mountain guides can call off climbers from taking this route if climbers are unfit, technically unskilled, or acrophobic. Be sure that you and your climbing partners have above average physical fitness, good hand-eye coordination and are not afraid of heights before attempting to tackle this trail.

60 Degree Inclination/Slope

Walk on Granite Surfaces

A View of Mt. Trus Madi

Spot Mountain Torq - Low's Peak Circuit Climbers In Action

As climbers start descending via the Kota Belud trail, they would be able to spot Via Ferrata - Low's Peak Circuit climbers descending from the base of South Peak, heading towards the World's Highest Via Ferrata hanging bridge. The ferrata climbers, in their bright yellow helmets and safety harness strapped to the cables and one another in a straight line is easy to spot from afar.

Catch A Glimpse of Mountain Torq - Walk the Torq Highlights

The Point Where Two Trails Meet

About 30-min into descending the Kota Belud trail, climbers will arrive at the intersection point, where Kota Belud trail meets the Low's Peak Circuit route.

Wooden Steps

The "steel-looking" steps drilled into the rocks are made of wood, and not iron or steel as they may seem. Some of these wooden steps are quite a distance apart, hence the rope comes in handy for climbers to navigate the challenging terrains of the Kota Belud trail.

Shorter but More Challenging

With a total distance of only 1.1 km between Panalaban Basecamp (previously known as Laban Rata) and the Sayat-Sayat Checkpoint, Kota Belud Trail is 170 metres shorter than the Ranau Trail (1.27 km). However, this trail is technically more challenging than Ranau Trail due to its terrain, steepness and trail characteristics.

Memoirs of Panar Laban Hut and Gunting Lagadan Hut

Before the end of the trail, climbers will pass by the ruins of Panar Laban Hut on the right-hand side & the abandoned Gunting Lagadan Hut on the left. After the 2015 earthquake, Panar Laban Hut was destroyed by falling rocks from the summit, while Gunting Lagadan Hut is deemed unsafe to accommodate climbers at that time. If you have hiked Mt. Kinabalu before the 2015, this section of the trail is a hike down memory lane.