FERRATA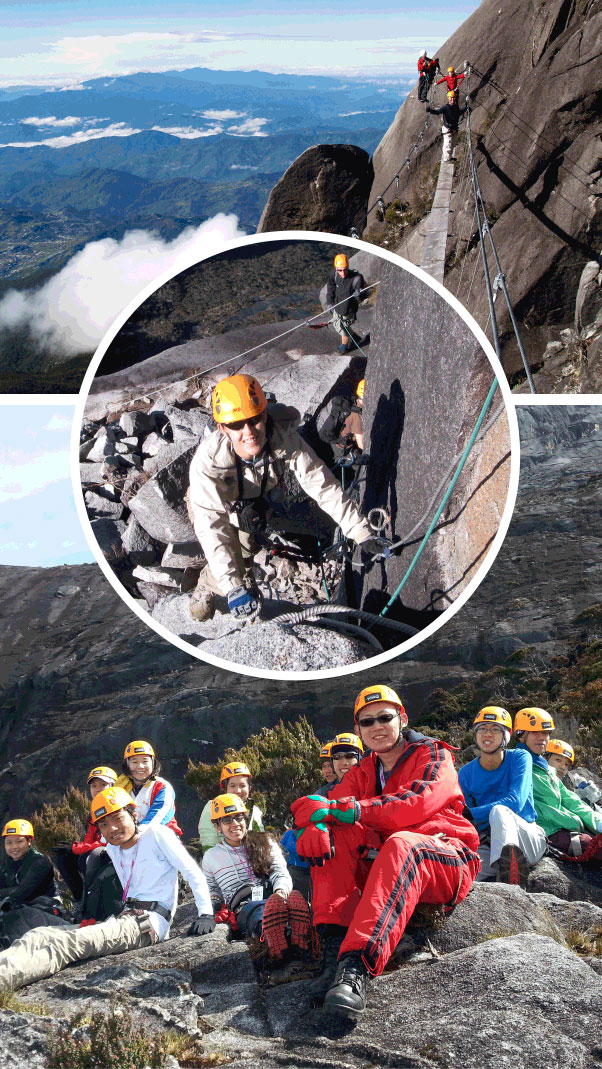 What is Via Ferrata
A Via Ferrata (or 'iron road' in Italian, plural via ferrate) is a protected mountain pathway consisting of a series of rungs, rails, cables and bridges embracing the rock face. It allows access to scenic sections of the mountains that are typically available only to rock climbers and mountaineers.
As there's a necessity for some use of modest equipment, a good head for heights and basic technique, the Via Ferrata may be seen as a definite step up from normal mountain walking under the safest conditions lead by an experience trainer to guide you.
Designed for bold and daring, the excitement, scenic beauty, and personal conquest you will experience on a Via Ferrata adventure is guaranteed to give you an invigorating nostalgic experience for years to come. There are more than 300 via ferrata routes around the world predominantly in Italy, Germany, France, Austria, Slovenia, Switzerland and Spain, and a few places in the United States and Canada.
The world's highest via ferrata, Mountain Torq – which also happens to be Asia's first – can now be found on Mt Kinabalu in Malaysian Borneo.
What is Mountain Torq
Mountain Torq is the World's highest via ferrata and Asia's first via ferrata located at Mt Kinabalu's Panalaban rock face. Starting at 3,200 metres and ends at 3,776 metres above sea level at Mount Kinabalu, Sabah, Malaysian Borneo.
The next highest Via Ferrata is found in the Italian Dolomites called the Marmolada West ridge, at the highest point of 3,343 metres.
Mountain Torq offers two Via Ferrata routes; Walk the Torq and Low's Peak Circuit. Both routes allow beginner and intermediate climbers to fully enjoy the activity without prior professional mountaineering experience.
Via Ferrata Climbing - An Activity for Everyone
Who Can Climb a Via Ferrata? What are the Requirements?
The Mt Kinabalu Via Ferrata is devised to give climbers with little or no climbing experience access to rock faces normally reached by mountaineers and rock climbers.
The minimum requirements needed for the first time via ferrate climber are:
Average fitness level (Able to hike up to 3,200m in 6 hrs)
Ages 10 and above for Walk the Torq
Ages 17 and above for Low's Peak Circuit
A minimum height of 1.3 metres
Free of restricting physical disabilities, be fit, healthy, and without fear of heights to fully participate and safely enjoy the activity
No prior mountaineering experience required
A maximum of 6 climbers per group is allowed to do Via Ferrata at a time
The Mt Kinabalu via ferrata routes are designed with beginner and intermediate climbers in mind.
There is a via ferrata route to match everyone's ability and endurance.
Beginner climbers can take their first experience along the granite walls of Mt Kinabalu. A journey of 2 to 3 hours.
Intermediate climbers embark on a 4 to 5 hours journey to experience the challenge of mountaineering and the lesser seen side of the mountain's breathtaking heights and sights.
The diversity of via ferrata routes means there is something for everyone – whether he or she is 10 or 70, a keen mountaineer or a casual holidaymaker.
Recommended Shoes for Via Ferrata Activity
The following shoes listed below are recommended.
Hiking Boots
Walking Shoes (good grip)
Trekking Shoes
Sneakers / Running shoes with laces

---
Customers seen with the following shoes below are not allowed to participate in the Via Ferrata activity:
NO OPEN TOE SHOES
NO SLIPPERS
NO SLIP IN SNEAKERS
NO BOOTS / RAINBOOTS
NO GARDENING BOOTS

No mountaineering experience? Don't worry, we've got the answers for you here!
There is always an experienced via ferrata trainer to lead the way. With over 1km of carefully planned out activity routes, our via ferrata participants can now enjoy the full experience of mountaineering in a safe and controlled environment.
Via Ferrata Safety & Trainers
Mountain Torq's Via Ferrata
Via Ferrata is one of the safest mountaineering sports which requires no prior training or expertise in terms of mountain climbing.
Constructed by a team of distinguished Via Ferrata builders from Europe, Mountain Torq's Via Ferrata uses CE mark-approved materials. Mountain Torq's Personal Protective Equipment (PPE), comprising of helmets, harnesses, dynamic ropes, and Energy Absorbed Landyards, are certified by the International Climbing & Mountaineering Federation (UIAA), and all meet the EN958 standard.
While you and your group require no prior mountaineering training to participate, all Via Ferrata trainers are trained based on safety practices certified in Via Ferrata guiding set by UIAGM / IFMGA endorsed by the UIAA. These certified instructors undergo mandatory regular skills certification & upgrading with training standards.
It is a Sabah Parks safety regulation that all Via Ferrata participants be accompanied by a Mountain Torq trainer at all times. Mountian Torq trainers are not to be confused with Mountain Guides or Mountain Porters.
This ensures you and your group can fully enjoy the activity with little to no worries!

Via Ferrata Briefing & Start Time
All Via Ferrata participants are required to attend a mandatory pre-activity briefing. Pre-activity briefings are conducted daily between 1500 hrs - 1600 hrs at Pendant Hut. Participants will be briefed on the steps of wearing the harness, working the carabiners, and the route of choice.
There is a cut-off time for participants to arrive at the designated Via Ferrata starting point in order to proceed with the activity. Participants who fail to arrive on time will be exempted from Via Ferrata activity and no reimbursements will be entertained. However, do take careful & safe steps down the mountain on the way to the Via Ferrata starting point.
Walk The Torq (WTT): Arrive to the starting point before 07:15 hrs
Low's Peak Circuit (LPC): Arrive to the starting point before 06:30 hrs
Mount Kinabalu Via Ferrata Adventure Routes
Walk The Torq VS. Low's Peak Circuit – Which Route Should You Choose?
Choosing a Via Ferrata route is dependent on the fitness level and experience climbers would like to take home with them.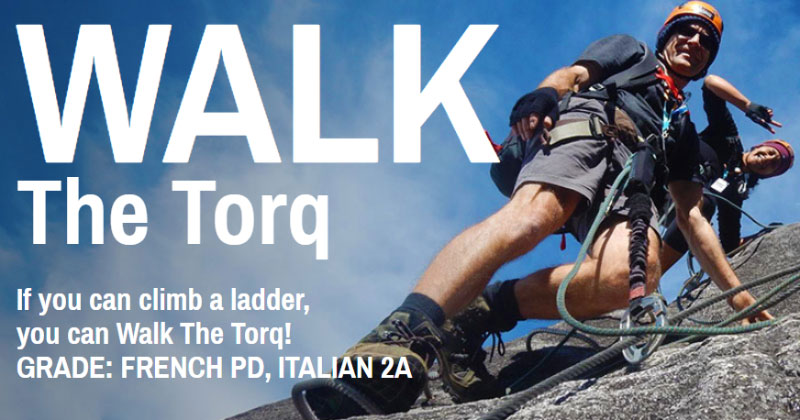 At 3,520m above sea level (a.s.l), this is an introductory route designed for the beginners. It is a leisure 2 – 3 hours climb offering the thrill of walking above the clouds and dramatic bird's eye view of mountain vistas, while being securely fasted to the side of the mountain. Reward yourself, as you feel your spirits soar with the spectacular views.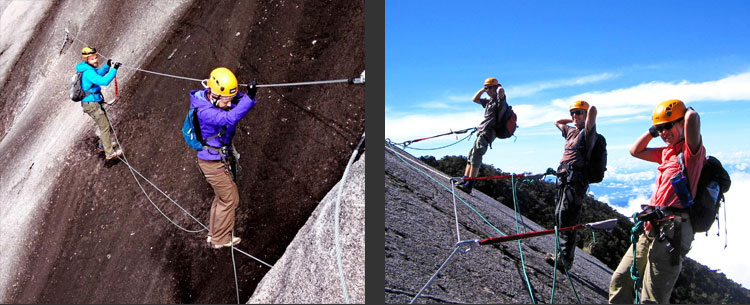 Cut-off Time: 8AM
Total Time to Complete: 2 to 3 hours
Highest Point: 3,521 metres above sea level

Requirements:
Above 10 years of age
At least 1.3 metres in height
No mountaineering experience needed!
Walk The Torq Highlights:
Walk along a Monkey Bridge
Climb the Rogimut Ladder
Equally scenic views!
A great way to savour a Via Ferrata experience without exerting too much energy
Grading: Introductory Via Ferrata, French PD & Italian 2A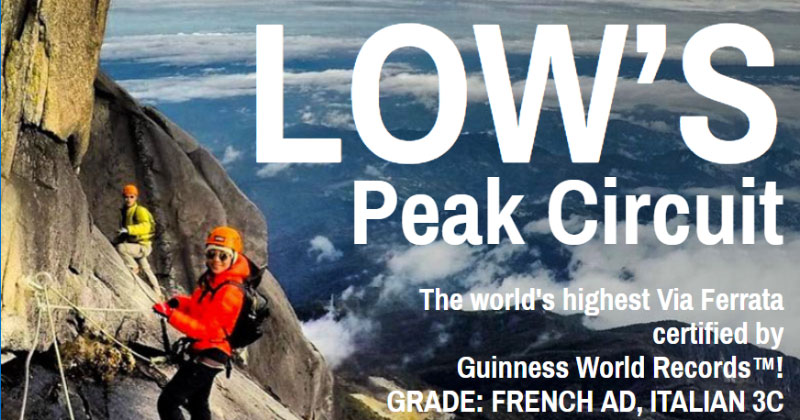 Explore nature's wonders from Low's Peak Circuit at 3,776m above sea level (a.s.l.). Get glimpses of the uncommonly seen hidden corners of the mountain plateau as well as the broad and stunning landscapes surrounding the mountain. Designed for the brave and active with above-average fitness levels, this 4 – 6 hour route with an optional summit attempt includes rest stops at scenic locations.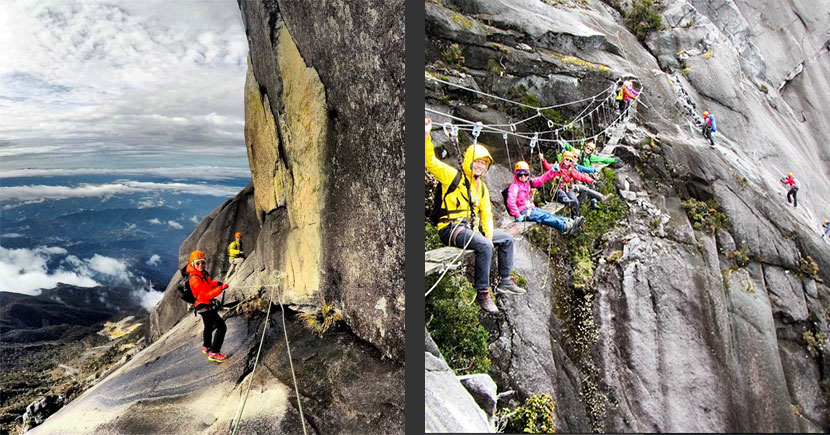 Cut-off Time: 7AM
Total Time to Complete: 4 to 5 hours
Highest Point: 3,776 metres above sea level

Requirements:
Above 17 years of age
At least 1.3 metres in height
No mountaineering experience needed!
Low's Peak Circuit Highlights:
Walk a suspension bridge at 3,600 metres above sea level – one of the highest in the world!
Venture 3,580 metres above sea level on what could the world's highest Nepalese bridge!
Connects to Walk The Torq route – the best of both worlds!
Grading: Intermediate Via Ferrata, French AD & Italian 3C
---
Pendant Hut
Exclusively for Via Ferrata Climbers Only Accommodation

Accommodation For Via Ferrata Climbers – Pendant Hut
Located at 3,289m on the Panalaban rock slab, Pendant Hut is a cozy and eco-friendly alpine lodge reserved exclusively for via ferrata climbers.
Unisex, dormitory-style accommodation
Private room, fits 4 persons (extra charge)
Shared common bathroom with heated showers
All beds come with sleeping bags and pillows
Check in time : 1400 hrs to 1600 hrs
Check out time : Before 1200 hrs
Things to do at Pendant Hut
You can enjoy your post-midnight supper and American breakfasts, relax at the comfortable lounge area, pick up a climbing book at the mini alpine library or have fun playing board games. From here you can try to spot your Via Ferrata pals on the Panalaban rock face! All dinner will be at Laban Rata's restaurant which is only a short walk away.

Mandatory Briefing at Pendant Hut
All via ferrata climbers our required to attend the MANDATORY pre-activity briefings held BETWEEN 3PM and 4PM DAILY at Pendant Hut.
Send your enquiry to info@mountkinabalu.com for more details on room charges. Pendant Hut is unheated but one good thing is all beds come with sleeping bags.