THINGS TO BRING
It is important that climbers are well-prepared and equipped for their Mount Kinabalu climb to ensure maximum comfort and enjoyment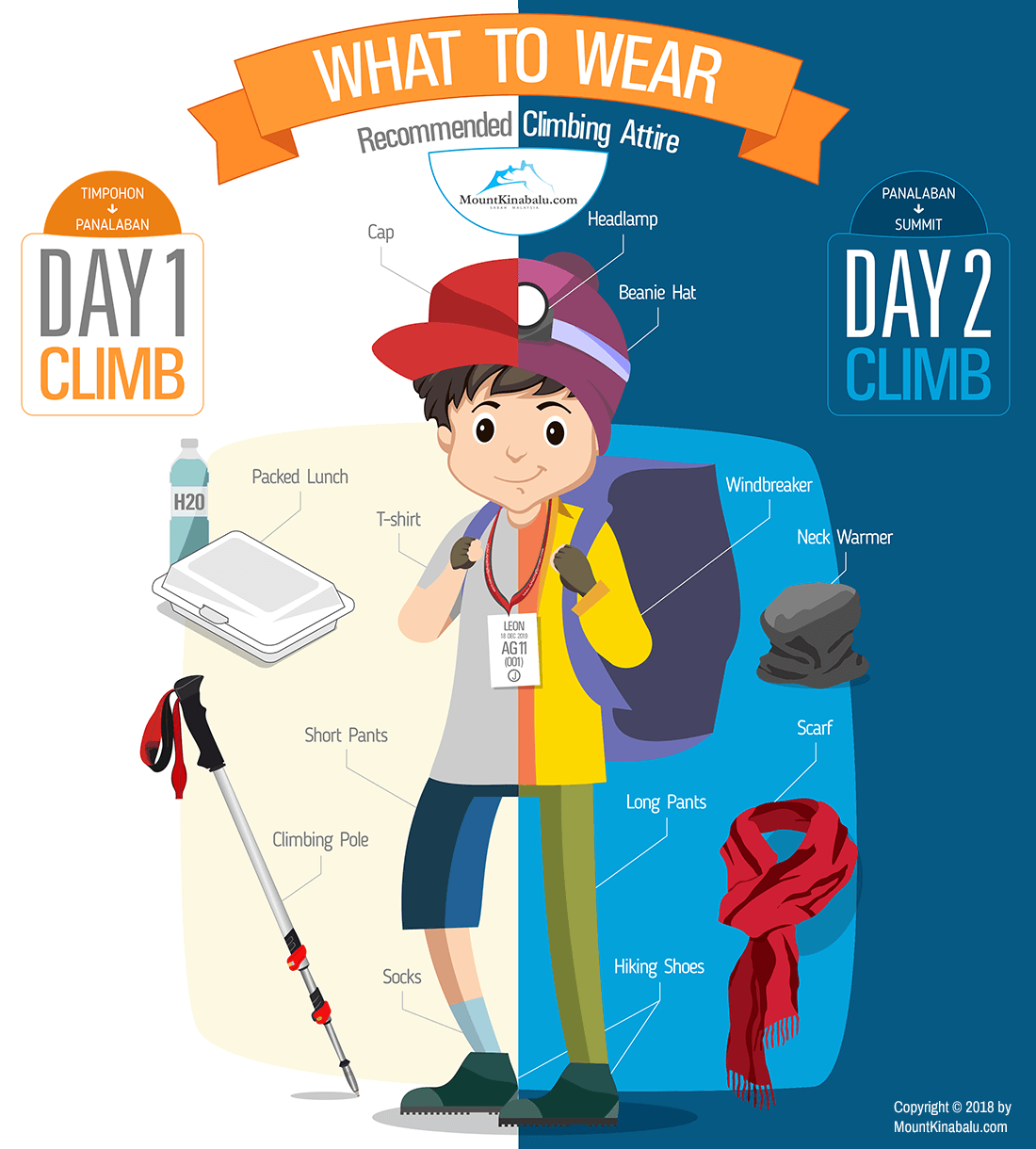 What to Wear
Recommended Mount Kinabalu Climbing Attire
1ST ASCENT – TIMPOHON GATE TO PANALABAN / PENDANT HUT
(Day 1 Climb / Weather: Usually Warm & Sunny)
Wear lightweight clothing like t-shirts and track pants.

Wear covered walking/hiking shoes with good grip. (Sports shoe is adequate).

Waterproof backpack to store your items. (If not, buy a rain cover for your backpack. Try to limit it to less than 6 kg. It would be a burden for you to bring more than that).

A small lightweight towel.

Trekking / Hiking Pole (can be purchased at Kinabalu Park at MYR 45/pole, simply inform our staff)
2ND ASCENT – PANALABAN / PENDANT HUT TO LOW'S PEAK SUMMIT
(Day 2 Climb / Weather: Usually Cold & Windy)
Warm clothing is essential.

Waterproof Wind breaker

Fleece jackets, long sleeves shirts, thick trousers/hiking pants, thick socks and good shoes.

Head Torch. (Head torch is necessary as most of the time you have to hold the rope in the dark).

Cap / Beanie / Head Scarf /Balaclava mask. (It will keep warm and protect your head and face from the cold wind).

Gloves. (Waterproof gloves is the best, It will protect your hands from rope burn and cold).

Ponchos or Disposable raincoat or waterproof jacket in case of rain.
Temperatures from Kinabalu Park to the Low's Peak Summit can vary throughout the climb.
Fun Facts : Average Temperatures at Mount Kinabalu
| Areas | Temperature |
| --- | --- |
| Kinabalu National Park | 15°C - 24°C (59.7°F – 75.2°F) |
| Timpohon Trail to Summit Trail / Kota Belud Trail | 6°C - 14°C (42.7°F – 57.2°F) |
| Mount Kinabalu Summit | 4°C or lower (39.2°F or lower) |
---
How to Pack
Packing Like A Pro for Mount Kinabalu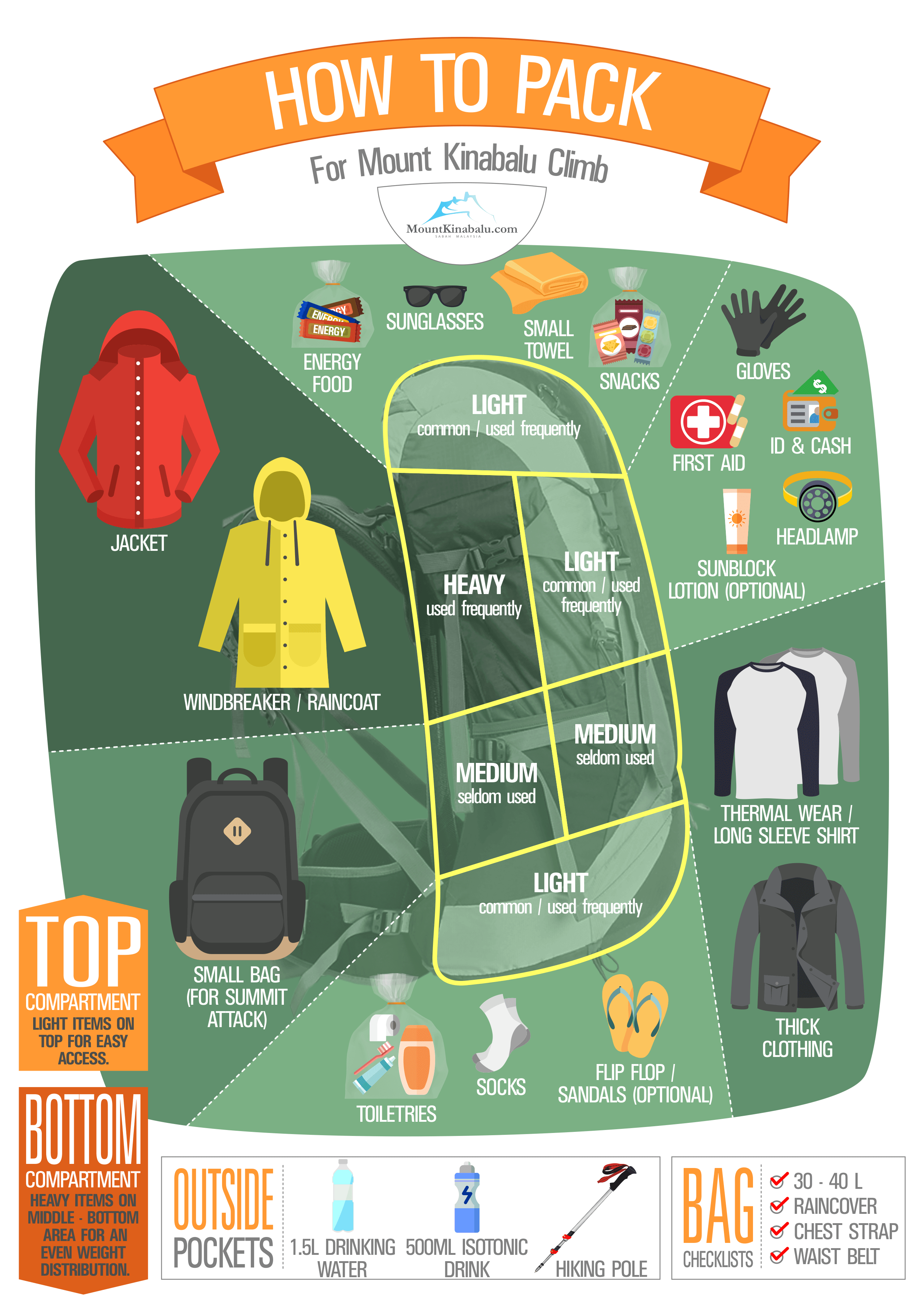 The most important rule in packing for a mountain climb is – travel light. Decide on the things that one may want to bring up the mountain and then halve it.
As you will need to carry your own packed lunch with you during the climb, we suggest you to reserve some space in your backpack to store your packed lunch. Otherwise it might not be a good idea to hand carry it along as you climb.
The Essentials for Mount Kinabalu
Waterproof Backpack (or for non-waterproof bags, pack a Rain Cover).
Lightweight Clothing.
Comfortable Hiking Shoes.
Change of Clothes.
Warm Clothing.
Waterproof Wind-breaker.
Fleece Jacket.
Head Torch for night climb.
Cap, Beanie, Head Scarf or Balaclava Mask.
Gloves.
Ponchos or Disposable Raincoat.
1.5L Drinking Water.
500ML Isotonic Drink.
Energy Food such as chocolates, nuts, biscuits, sweets, energy bars.
Personal Toiletries such as soap, toothbrush & toothpaste.
Socks.
Sunglasses, Sunblock Lotion, SPF Lip Balm, Plasters (Band Aid).
Small Towel.
Trekking / Hiking Pole.
Medication such as Painkillers or Altitude Sickness Tablets
Camera & Waterproof Camera Bag.
Waist Pouch or Smaller Bag for Summit Ascent.
Optional
Toilet Tissue Papers.
Flip Flops / Sandals (for use in wet bathroom).
Insect Repellent (to keep creepy crawlies away).
Extra Plastic Bags.
Small Water Bottle
NOTE:
Sleeping Bags are not needed for a Mount Kinabalu Climb.
---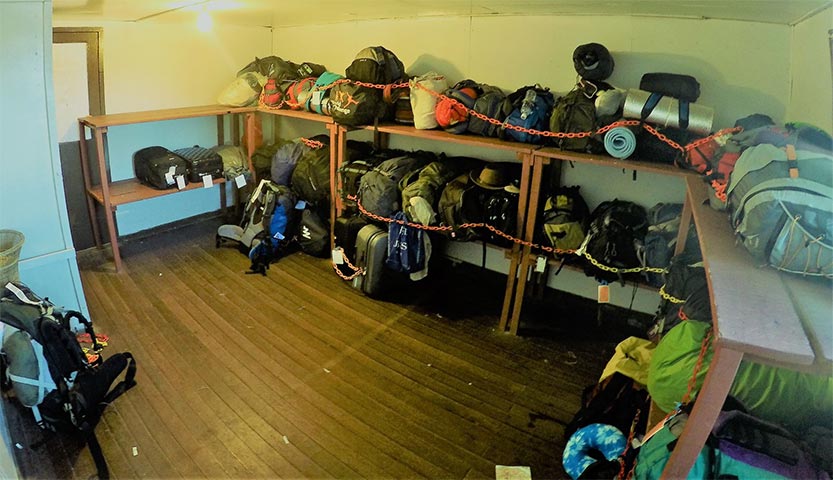 Climbers can store their belongings and luggage before the climb at the Kinabalu Park HQ Reception. Just pack the necessities mentioned above in a waterproof backpack for the climb. However, climbers can hire a porter to carry their belongings should they deem it to be necessary. Below are the porter fees payable to Kinabalu Park HQ.