KINABALU PARK PREMIER CHALET - KINABALU LODGE
If one has enjoyed staying at other Premier Chalets of within the Kinabalu Park Hotel's list of accommodations, they will find joy in staying at the Kinabalu Lodge. This three-bedroom unit comes with a master bedroom (king-sized bed) and two smaller rooms each with a pair of single beds. What's lavish living without en-suite bathroom with hot shower facilities and complimentary toiletries. Keep warm by the fireplace in the living room and enjoy a meal specially prepared by your personal butler.
This accommodation is operated by Sutera Sanctuary Lodges (SSL).
City / Region
Kinabalu Park
Hotel Code
HTKP-KL
Address
Kinabalu Park HQ (1,585 metres) Mount Kinabalu area, Sabah, Malaysia.
Location

A two (2) hour journey from Kota Kinabalu, the visitors to Kinabalu Park, located at 1,585 metres above sea level, can experience cool climates and rich varieties of fauna and flora in Malaysia' first World Heritage Site. Kinabalu Park and Mt Kinabalu feature lowland, mountain and alpine vegetation, all within the confines of Kinabalu Park.

Information

Check-in time: 14:00 hrs
Check-out time: 12:00 hrs
---
Prices
---
Rooms
Kinabalu Park accommodation ranges from private chalets for small groups and families, to dormitories for the backpacker and semi-luxury suites for honeymoon or romantic couples.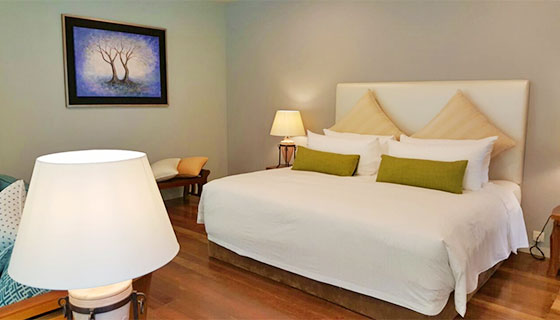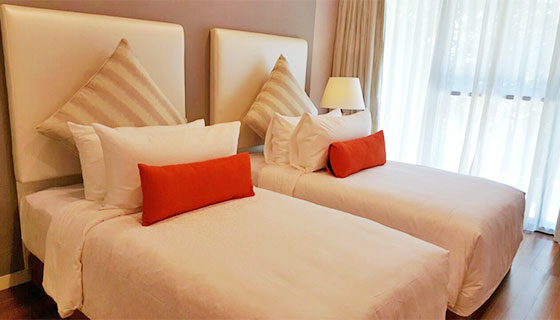 Kinabalu Lodge - Bedroom 1 (King Bed) / Bedroom 2 (Twin Bed)
1 Unit for 6 persons
2,244 sq ft
3 Bedrooms with heater
Bedroom 1 - Two Rooms with King Bed
Bedroom 2 - One Room with Twin Bed
Attached Bathroom with Heated Shower
1 Common Toilet
Living Area with Fireplace
LCD TV with Cable Channel
Dining Area
Pantry with Microwave & Fridge
Total 01 Unit only
---
Facilities & Services
Botanical Garden: Mon-Sun (09:00hrs-16:00hrs) – subjected to fee
Guided Tour: Mon-Sun (09:00hrs / 12:00hrs / 15:00hrs) – subjected to fee
Conservation Centre: 09:00hrs-15:00hrs – subjected to fee
Firewood is provided for lodges with fireplace (first stack is provided without charge)
Item for Rental: DVD / VCD Player
Souvenir Shop: 07:00hrs-10:00hrs
Multi Purpose Hall
Food & Beverages
The Liwagu Restaurant and Balsam Café provide interesting settings inside Kinabalu Park wherein to enjoy a meal along side the vistas of Mt Kinabalu.
Balsam Restaurant: 06:30hrs to 21:00hrs
Liwagu Restaurant: 08:00hrs to 22:00hrs
*Exhibition Centre (09:00hrs-16:00hrs) and Slide Show Presentation (14:00hrs Daily & 19:30hrs on Weekend & Public Holidays) are currently closed at the moment.
---
Park Etiquette
Do not destroy or remove any plant or animal
It is an offence to remove plants and/or animals and to shoot, trap and/or collect any wildlife. Take only pictures, leave only footprints.
Do not litter. Dispose of rubbish with a thought for the environment.
Clean up if need be after those who don't. help keep the environment clean and pure as nature intended it to be.
Do not bring heavily packaged products
These mean large quantities of paper and plastic wrappings to discard after use. Minimize the amount of disposable material.
Do not bring pets
Pets are not allowed into the park as they may introduce diseases to isolated populations or may escape and become wild.
Do respect the silence of nature
Do not bring audio or digital devices such as loud speakers, portable electronic audio players and radios that may disturb wildlife or those who wish to observe them. Be considerate.
Do be extra careful with inflammable material
Make sure fires are fully extinguished. Do not smoke if you can avoid it. Cigarettes can cause bush fires. Observe all safety rules.